Do you ever feel pangs of envy when you see a woman with a mane of long, luscious hair? Maybe when you watch the Academy Awards and see all the movie stars with their flowing locks, or the Victoria's Secret models, you wish for hair that like that. But your natural hair just isn't, and that's just the way it is. Or is it?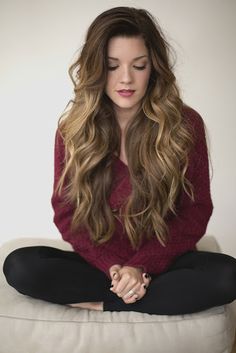 Hair Extensions
Hair extensions just aren't for the rich and famous. You can have these, too. Talk to your stylist or take a look around at some of the online sites for hair extensions; you may be surprised to learn how easy they are and how much of a difference they'll make to your hair. Here are some of those reasons to go for it:
1. Hair Extensions are easier than you think. Many people tend to think of hair extensions as damaging to your hair, hard to get put in and taken out, and time consuming. But that doesn't have to be the case. Some extensions, especially the tape-in type, aren't bad for your hair and don't take long at all to put it. You can do these yourself or have your stylist do it. It takes about the same amount to get them in as it does to get your hair highlighted. They are easy to get in with the tape and easy to get out with a solute that dissolves the tape.
2. Matching is easy. With all the different types of extensions, it's easier than ever to match the extension to your natural hair. Make sure you match not only color, but also texture. That doesn't just mean just wavy or straight, but also take into account the coarseness and thickness of your own hair. You want to go with human hair as it looks better and is as easy to care for as your own. As far as color goes, you may want to have a little fun and go with something that blends but adds some visual contrast. You also may want to add a fun piece, like a bright color. Remember, you won't have it forever so you can experiment if you want to go bold. If you just want the natural, long look, go as close to your natural color as you can.
3. Extensions are easy to care for. As long as you're going with human hair as opposed to synthetic, you'll care for your extensions the exact same way as the rest o f your hair. And that will make it much easier. You'll want hair that takes the same kind of shampoo and styling products that you use, and that can even be colored if you're going to be doing that while you have the extensions in. remember, you should be pretty gentle with your own hair, but you can blow dry, flat iron and treat your extensions just like your natural hair. Some people like to sleep with their hair in a loose braid when they have extensions to further protect it.
4. You get long, thick hair! With hair extensions, you'll have that movie star look you've ben craving. It's hard to grow hair out to a long length and still have it look good, thick and healthy. Many women's hair begins to break or look thin the longer it gets. With hair extensions, you're adding not only length but also volume; your hair will look red carpet ready, even if you're only gong out for happy hour or to walk your dog.
5. It's easy to look good. Once the extensions are in, you're hair is going to look great. You can still wear a ponytail at the gym and any other style. You'll have more options with your new length and volume. It's not only easy to look good, but easy to change the look. You won't be bored with your hair if you have extensions.
It may be time to take a look into getting hair extensions. Remember, it's not a forever commitment, and if you don't like them once you have them, just take them out. They are easy enough, whether you are doing it or your stylist. The key is to match up to your real hair as best you can, treat them gently and you'll be stunning!
Image Source: https://s-media-cache-ak0.pinimg.com/736x/d9/de/ba/d9debadeb08fcb96690bbcec979319a6.jpg