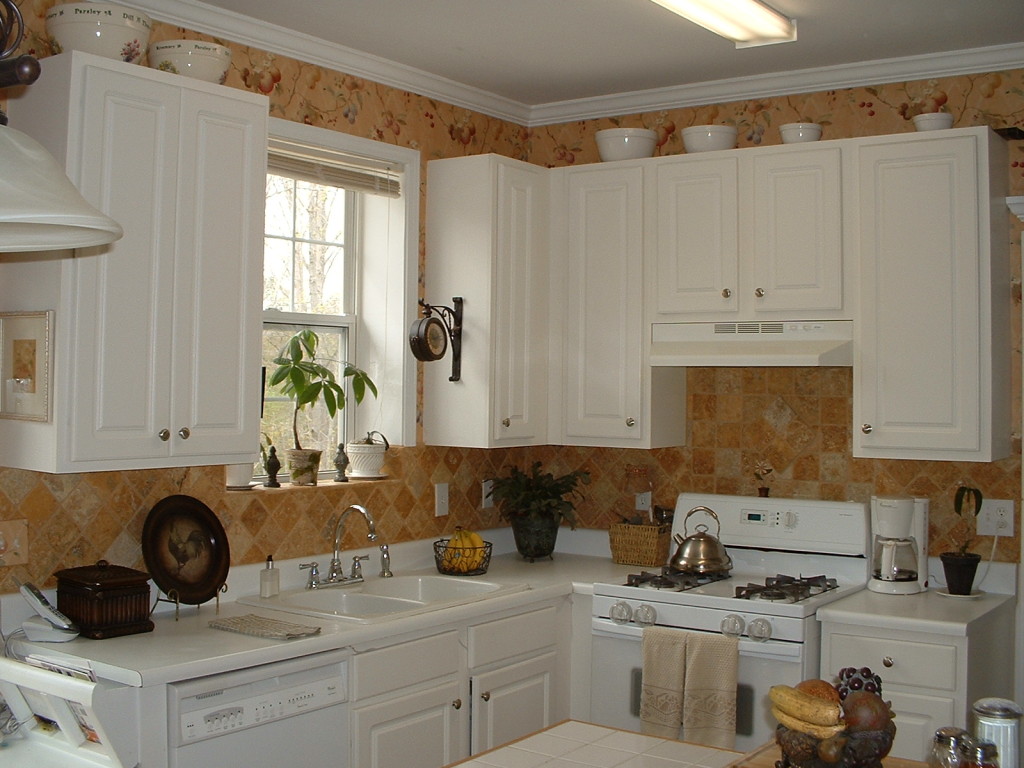 You still can't afford the gourmet kitchen of your dreams, but you're hankering for some changes that make it look and work better. From paint and upgrading your kitchen tile backsplash, to DIY projects, these ideas will help you plan your budget friendly kitchen update.
Countertops
An easy and cost effective kitchen update is replacing the countertops. If you haven't looked at laminate countertops for a while, you'll be surprised how much they have improved. New products feature a premium finish that looks like stone. You no longer have to settle for the seams showing on the edges. Now you can special-order laminate with beveled or bull-nose edges. If you prefer, the beveled edge can be in a contrasting color.
Cabinets
If your cabinets are wood, melamine or laminate, you can paint over them in newer more in-fashion colors. If a DIY project, You will need to create a rough surface for the paint to adhere properly, so use some sandpaper before you paint. Then paint with a waterborne acrylic enamel that is self-priming and can be tinted to the colors you want.
Adding new knobs or pulls to your kitchen cabinets is an easy update that can be quite cost effective. If you can't stand the look of outdated knobs on your current cabinets; simple, modern pulls help even dated cabinets look more current.
A larger DIY project is to customize kitchen cabinetry with decorative molding which looks beautiful and adds value to your kitchen. Outline the inset portion of the doors and repeat the treatment on the ends of the cabinets. To install, you'll either need some skill with the miter box or hire a handyman.
With an unlimited budget, all of us would opt for new kitchen cabinets with full extension drawers so we could get to the pots and pans without crawling on our knees. A much cheaper alternative is buying custom-ordered organizing products for the existing cabinets. First you have to measure each of the cabinets where the products will go. If you don't trust your measuring skills, get some help. Because this is a special order, you have to make sure the measuring is correct.
Faucets
The faucets that builders install typically are functional but not great looking. Replacing the faucet, like changing cabinet knobs, can upgrade the look of your kitchen fast and cheaply. Today there are a large variety of faucets that look beautiful and are extremely functional. Gooseneck faucets, which are in fashion, and come in a variety of price ranges, allow the cook to easy maneuver large pots in the sink.
Backsplash Tile
Are you bored with the glossy, drab or dated builder tile on the kitchen tile backsplash? Today there are hundreds of choices from subtle to vibrant you can purchase and apply yourself with not too much effort, or hire a contractor within your budget. Replace your current tile with something more exciting, such as bright and glossy colors, tumbled stone or more attractive porcelain tile.
Countertop Accessories
Perhaps the cheapest and most impactful fix for your kitchen is in the clutter on the counter tops.  If you have too much stuff on the counters, clear most items off and put them into cupboards or drawers for a cleaner look. For what can't be stashed away find some pretty containers in fun colors.
Follow these tips for a budget friendly approach to updating your kitchen. And when you are done, you can start your next update job, the bathroom!