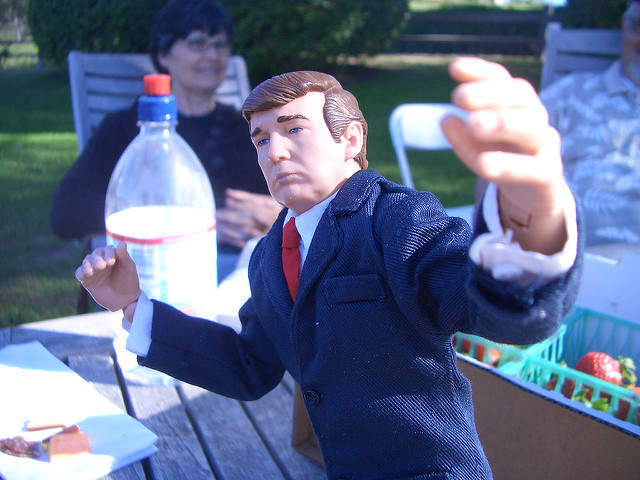 With market volatility rising, spread betting could see major winners in the coming weeks and months as analysts believe that Trump could cause U.S. stocks and the economy to set new highs according to the Deutsche Bank.
The news and reactions seem to points to Trump being a positive influence over the U.S. stock market and economy. It is believed by analysts such as Chief U.S. Equity Strategist David Bianco that by the time Trump is sworn in as President of the United States of America, the S&P 500 index will rise over 2,250.
Investors are getting behind the idea that there is a much higher chance of a continued and long-lasting expansion in the economy that could match or beat the 10 year U.S. record. Investors believe that by the year 2018, the S&P 500 could reach as high as 2,500.
If the American economy can make it to 2019 without suffering another recession, it could break the last 10-year record set from 1991 to 2001.
The largest component of the GDP is dampened by the consumption of the growing retirees on Social Security, lowering variability while the structural decline in the growth potential equates to smaller shocks to the market needed to cause a downturn in U.S. market activity.
Bianco does not ignore the risk of a rising dollar on the Corporate America's bottom line, the possible trade policies that can be seen as protectionist under the new Trump presidency and rises in the Treasury yields, they still think that the most important aspects for investors will be the increases in profitability in banks and the lower taxes.
An estimate from the Deutsche Bank sees the U.S. corporate taxes to drop by as much as 25% bringing it closer to the current OECD average. This suggests that earnings per share on the S&P 500 could see a $5.00 increase with every 5% tax cut. Bianco has therefore increased their earnings per share to at least $130 in 2017 for the S&P 500. This constitutes an annual growth rate of 9%, assuming they hit their 2016 mark of $116. Bianco is unsure of the exact amount the corporate tax rate will be cut but are sure that it will be significant.
If people do not convert their financial holdings from foreign currencies to their country's currency, the tax reduction that is expected for corporates would provide various benefits to the domestically-orientated organizations. Since November, the Russell 2000 Index has performed vastly better than the S&P 500.
Financial asset prices could be kept afloat by a special repatriation tax holiday, especially if the funds were used for dividend boosts, M&A or buybacks. Bonds will still not be enough of an alternative to shrinking stock valuations or make businesses turn to higher interest expenses. Bianco went on to say that as the Fed continues to the current tightening cycle, it will help to keep the labour market from becoming too volatile as well as help to put a cap on the longer term U.S. Treasury yield curve. Because the utilities stocks have been battered since the election, Bianco has recommended that investors should turn to it as a source of income.
Historically, utilities have seen benefit from lower U.S. corporation tax rates since it gives all the profits back to the U.S. and there is then little foreign exchange risk. It also benefits from a continued the 15% tax rates on dividends as opposed to income tax rates and 3.8% the Affordable Care Act tax that will likely be dropped. Furthermore, utilities will benefit from Federal loans and infrastructure grants as well as benefiting from safe-havens for retirees and other institutions that are looking to lower their fixed income exposure.
Spread betting on sites such as CMC Markets could therefore see some major winners in the coming weeks and months as Trump becomes sworn in and does what most analysts expect him to do. Americans are the most hopeful they have been in a long time based on reports by a Bloomberg sentiment index from the University of Michigan. It showed a broad increase in confidence across incomes, ages and religions. While this might be a post-election honeymoon period for some, confidence is much higher than expected pre-election results.