Washington State has several amazing mountains that attract and excite visitors all year round. Gaining access to these natural wonders is simple no matter where you live. You can book complete mountain packages in places as far flung as the Cascades in Washington, to Australian Blue Mountains tours with Dingo Travel. To help you decide where to go, here are all of Washington's mountains you have to visit:
Mt. Rainier

Mount Rainier, at 14,411 is the tallest mountain in the Cascades, the largest mountain range in Washington State. The Cascades extend from British Columbia in Canada, through Washington, Oregon, to Northern California and includes volcanoes (the High Cascades) and non-volcanic mountains (the North Cascades). Mount Rainer has a very recognizable profile as it is in full view from Seattle, providing a magnificent backdrop for the city.
Mount Rainer is part of a national park that was founded in 1899, and is the most reachable glaciated peak in North America. For tourists, Rainier offers a multitude of unique and spectacular visual delights include: ice-blue glaciers, multicolored flowers, and magnificent waterfalls.
For hikers and climbers, there are dozens of trails for different skill levels climbers: amateur (Disappointment Cleaver), climbers (Kautz Glacier Route) and for the very experienced, Liberty Ridge, is one the top 50 climbs in the U.S.  There are a number of guide companies that will happily take you up Rainier for a fee, or you can for a lesser price make the climb unassisted.
Rainier offers lots of amenities for everyone at Mount Rainer including: gift shops, a visitor center, restaurants, and even a classic lodge. Every year nearly 2 million people visit Rainier.
Mt. St. Helens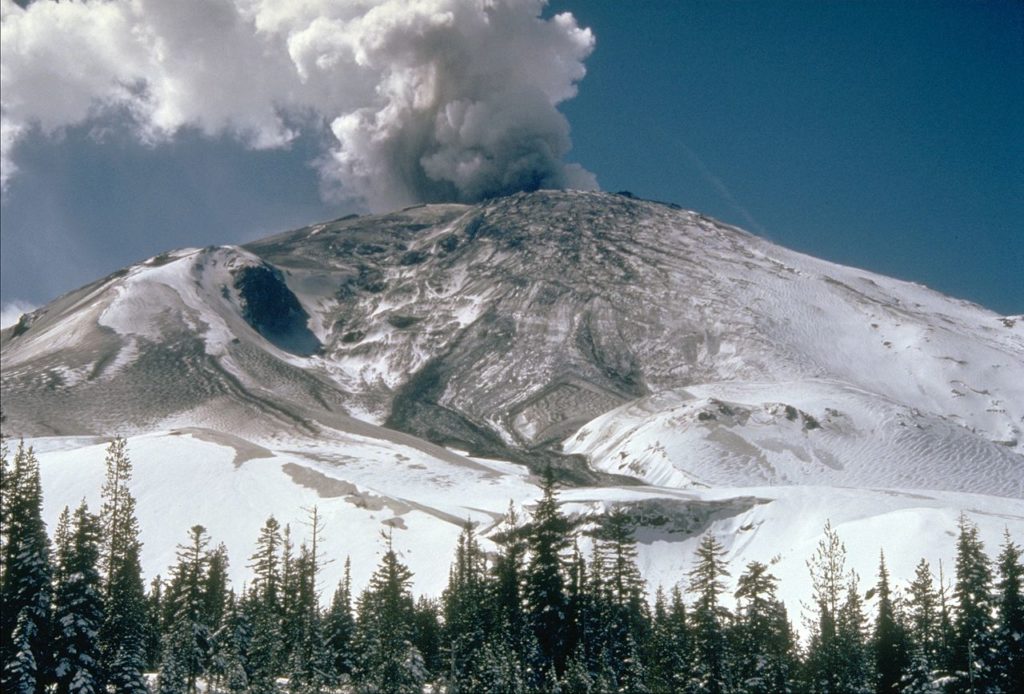 Mount St. Helens is in the top two of America's most active volcanoes, with an elevation of 8,365 feet. In 1980, there was a major eruption that caused a mile–wide crater and took 57 lives. This was the most economically destructive volcanic event in the history of the United States. It began putting out ash and steam again in 2004 and it continues today.
Mt. St. Helens and the surrounding Gifford Pinchot National Forest, get tens of thousands of volcano seeking visitors each year and just as many who come because of its abundant outdoor leisure activities, including hunting all year round, mountain biking in the spring and summer, and snowmobiling and skiing in the winter. The climb to the crater rim takes 8 hours and you need to bring boots because it's rocky and there will be some climbing.
There are a bevy of ways to enjoy the mountain that include everything from hiking to climbing, to even a helicopter ride over and into the crater. To hike to the summit of Mount St. Helens, all climbers must register and obtain a climbing permit. There are also plenty of easy to traverse lower trails call for more info at mshinstitute.org. And with tons of activities for the young people, this mountain is definitely aimed at family entertainment. Be sure to check on any planned activities before you go. Finally there are several hotels and bed and breakfasts in the area that make great accommodations.
Mt. Adams

Mount Adams glaciers are nearly gone, but at 12,281 feet it is second tallest mountain in Washington State. Because of its more gentle slopes, less experienced climbers choose Mount Adams to climb. The most popular route up the mountain is called the South Spur Route, which is gentle and scenic. To reach the peak, most people, get a permit and spend two days climbing with a break for the night about 3,000 meters up where there is a flat landing. A more difficult route to the top which will take crampons, an ice ax, and the skills to use them, is called the Adam's Glacier route. If you want to really press it, the route can be travelled in about 14 hours. There are campgrounds near and accessible where you can park to get to Mount Adams.
Mt. Olympus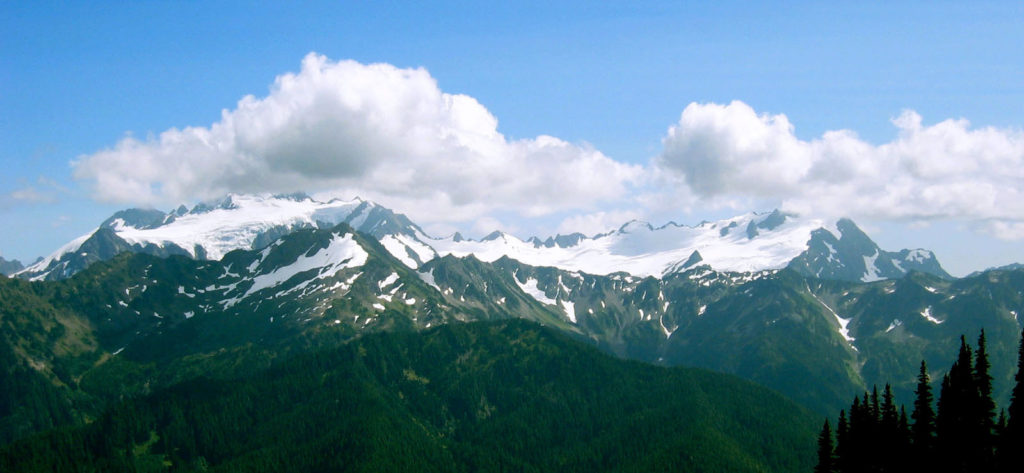 Mount Olympus is the tallest and most prominent mountain in the Olympic Mountains in the Western part of the state. It was named by an explorer who thought it looked like the home of the Greek Gods. Although at 7,800 feet it does not meet the height of the original Mount Olympus in Greece, with its heavy winter snowfalls and large glaciers, it is just as majestic. It is also the central attraction of Olympic National Park, which features rain forests, mountain goats and elk herds. For climbers, this mountain requires a big time commitment because of the approach via the Hoh River (two days), a climb to the summit (one full day), coming back down (another day). But the amazing views, lush surrounding and of course the peak, makes it worth it. For the non-climber there are various trails including the Hall of Mosses Trail and the Spruce Nature and the very popular Hoh River-Five Mile Island Trail that is more than 10 miles long and parallels the Hoh River.
Glacier Peak

If your hope is to find a remote place to camp, climb or hike, Glacier Park might be your best choice. With an elevation of 10,541 feet and sitting 70 miles from Seattle, in the middle of a remote 500,000 acre forest, Glacier Park takes you off the beaten track and back to nature. But roughing it has its rewards and in this case they are mind blowing views, great trails and a real chance to get directly in touch with nature. There aren't many amenities this way, except for a few lodges, so come prepared to rough it, if you plan on staying a while. This means little cell phone access by the way. Hiking is available for all level hikers with numerous trails that take you through the park and up the mountain a bit. While climbing is strictly for the experienced.