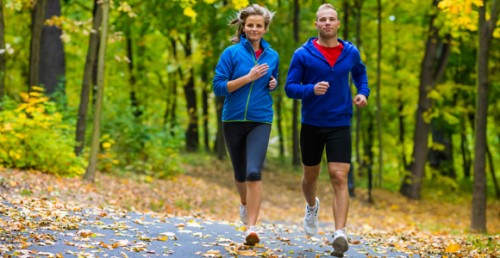 You've met the girl or guy of your dreams, you've hit it off and you want it all to be perfect. You want to do what you can to make it last – a healthy relationship is a good relationship, and the stronger and healthier you can make it upfront, the better you have of sticking together. Plus, you want to stay healthy, literally, in your life to enjoy it.
Here are a few tips to help you and your partner find that health relationship and stick with it. Also, the plus about going the healthy track with someone you're interested in, you can support each other!
It's a new relationship- passionate, exciting and you really can't keep your hands off of each other. But remember other hands may have touched, too. Be healthy with this new relationship, and keep your sex life safe. Part of this entails telling each other about any health issues regarding sexually transmitted diseases. You don't have to reveal all of your past partners or past history, but be honest, especially in regards to any STD's or past risky behavior. Be safe in your actions, too. Use condoms. For variety, take a look online. Yes, you can buy condoms online, and thought your new relationship may not need spicing up; you can still check it out.
Exercise Together
Maybe you are an avid exerciser – you love to get up early and bike on a Saturday morning or hit the gym every night after work. Or maybe not. Maybe your new girlfriend or boyfriend loves to exercise – or hates it. Either way, getting into an exercise program is so much easier with someone, and it can do wonders for your health. The fun thing about getting involved with exercise with your significant other – you can try new stuff. Maybe she's into yoga, but you're into rock climbing. Give each other's thing a try. You never know – you may be one the grabbing your yoga mat and heading into crow pose before you know it. You can also do fun dates together that incorporate exercise. Go for a fun hike or take the dog for a walk, run a 5K together or do some hot yoga. The more fit you are, the more it opens up the things you can do together.
Eat Healthy
Just like exercise is something fun to do together, so is healthy eating. From shopping to cooking, a healthy meal can be an amazing date. You can take it a step further, and hit the farmer's market early in the day, bring your yummy finds home and prepare a romantic meal together later. It's a fun, healthy way to spend the day. You can also go on dates to new, healthier restaurants instead of your usual pizza place. Again, things like this can be much more fun with someone you enjoy being with. Exploring new foods in fun ways is a great date as you are getting to know your new partner better.
Encourage Each Other
Even if you're not eating every meal or spending every free moment together, you can encourage each other to be the best each of you can be. In the excitement of a new romance, everything seems new and fresh. It's a great time to gear into good health. Think about how much better you feel eating healthy, or how much more energy you have getting more exercise. Maybe one of you is already there in a good healthy place; bring the other one with you. It's easy to slip into each other's habits – choose the good ones. You can also encourage each other to make other healthy choices – stop smoking or drinking too much, get that check up from the doctor, let go of stress.
A new relationship is amazing – and maybe this is the one. If it is, you want to start with honesty and good choices – from sex and past behaviors to current habits and healthy choices. Enjoy each other, and encourage each other to be healthy and be around for each other for a long time. Leave your old baggage behind, from your bad eating habits to old, unhealthy relationships and enjoy this new one!
Image Source: http://www.fitnesswellnessblog.com/wp-content/uploads/2014/03/Ways-for-Couples-to-Exercise-Together-500×258.jpg