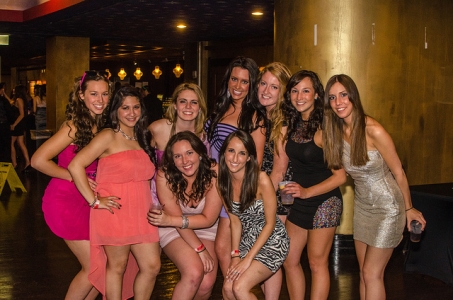 Friendship – in college, it's a major issue, as you will be separated from many, if not all of those that were in your inner circle in high school.
Sororities are a wonderful solution to this problem, as they supply an environment where dozens of like-minded individuals will be living in close proximity to you.
This closeness produces more than just friendship – it is an incubator for sisterhood. This is more than just a meaningless platitude, as normal friend relationships just don't have the benefits that sisterhood offers.
Not just friends, but sisters
Going into college, I thought that joining a sorority was just a great way to meet new friends. To be certain, affiliating with a Greek letter organization is a wonderful way to achieve those ends, but my pledge period and my first semester as a newly initiated sister awakened me to a new reality.
I wasn't just making new friends by joining a sorority – I was being initiated to a family beyond my biological one.
This fact was hammered home the second I was introduced to the tradition of giving and receiving sorority big little shirts and gifts.
The first moment my Big made it clear she thought of me as a sister rather than as just a friend, I was able to differentiate between various levels of female-female companionship.
Being a guiding light to those around us
Being in a sorority introduced me to the concept of being a leader. Rather than just being content with going with the flow, I started to look for ways to lift up the people around me rather than just seeking out ways to further my own ends.
Once you learn to embrace total strangers not as just friends, but as sisters that you would do anything to help, you can't help but view other human beings in the same light.
In the workplace, on the street, at the gym – I view any woman willing to engage with me not as a stranger, but as a potential sister with whom I can build a strong friendship with.
Using my past experience, I can help them with aspects of their life with which they are struggling, and I can open my mind to learn from their example as well.
In a sorority, you learn the value of selflessness, as without the consensus of the group, you can do little and therefore, you are little.
Together, however, we can achieve great things and we can be perceived as great.
Not just during college, but for life
When I was first considering joining a sorority, someone in my dorm told me, you might have a good time with these girls, but just like us in the dorms, these relationships will fade away as you pursue your career.
To a degree, she may be have been accurate, but comparing unaffiliated women I knew next to the sisters I spent my undergraduate career with, I can honestly say I have spent more time with them post-graduation than my independent friends did with each other.
Lunch meetings quarterly with local sisters, annual get-togethers with those further afield, numerous weddings spent as a bridesmaid (and my wedding? What a time that was!) – my time after college has been made richer thanks to my sisters.
Without them, my life would have been so gray.