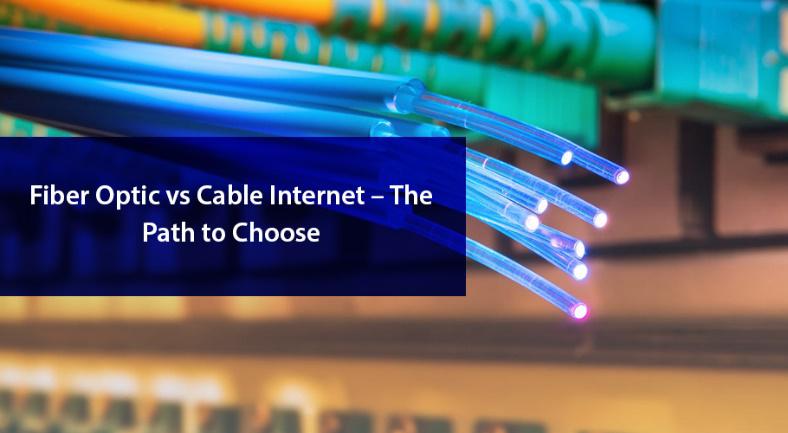 Whether it is your work, education, or your social life, there is only so much you can do without the availability of reliable internet service. Thus, choosing the right type of internet connection is monumental if you want to achieve optimum level of productivity.
These days, there are two forms of internet connections that are more common than the others: fiber optic, and cable internet. While both of these internet options are remarkable, each has its own pros and cons to offer.
So, let's discuss these pros and cons in a little more detail, so you have a better understanding and you are in a better position to choose the right type of internet connection for your personal and professional lives.
Availability
Since cable internet has been in the market way before the newer fiber optic technology, it is easily available as compared to fiber optic internet. Cable internet functions on the same technology that brings your cable TV channels in your homes.
Even though fiber optic technology has come a long way since its introduction, it has yet to overtake cable internet in terms of widespread availability. Furthermore, fiber optic internet is a a rare occurrence for people living in rural areas.
Speed
While availability is an aspect where cable internet takes the lead, fiber optic internet takes the cake when it comes to speed. Fiber optic technology is capable of transmitting data at blazing-fast speeds in the form of light signals. This takes away any form of hindrance that cable internet users may face.
Cable internet, on the other hand, provides relatively slower speeds but that does not mean that you should take it lightly. Cable internet is as capable of supporting intense gaming, back-to-back movie marathons, and more without breaking a sweat.
Reliability
An internet service is only good if it is reliable. If an internet service is not reliable, no amount of download or upload speeds can compensate for interrupted conference calls and critical digital combats.
Fortunately, both fiber optic and cable internet offer a similar level of reliability to all of their users. That being said, cable internet may be subject to outages and breakdowns in case of severe weather conditions, fluctuations, and moisture in cables.
Cost
While cable internet may seem cheaper to consumers at the start, the benefits fiber optic internet offer make up for the heavy price tag. A fiber optic internet service may require you to install an elaborate labyrinth of new fiber optic cables from scratch whereas cable internet does not need any installations of the sort.
Fiber optic internet, however, provides relatively faster download and upload speeds, which means you will get better value for your money in the long run. Additionally, fiber optic internet service is not as expensive as it used to be. Now, there are bundled plans like Frontier FiOS Double Play that offer high-quality service to all subscribers at highly reasonable rates.
Security
Your internet security is just as important as your physical security. You may not know this but there are numerous threats lurking online, waiting for the right moment to pounce. Cable internet may be relatively weaker when it comes to your internet security as it is easier to intercept copper wires as compared to the newer fiber optic technology.
Upload/Download Speed
Last but definitely not the least, fiber optic internet offers something that is its biggest appealing factor. As opposed to cable internet, fiber optic internet enables its users to enjoy similar download and upload speeds. Meaning, if you are getting 200 Mbps of download speed, your upload speed will be the same.
Internet Service Provides worth Considering
Now that you have a slightly better understanding of what both these technologies have to offer, let us also help you decide on the internet service provider that you should choose.
Frontier
Frontier internet is a remarkable internet service that offers fiber optic internet to many users across the country. Frontier FiberOptic Gig Service allows users to enjoy download speeds as high as up to 940 Mbps. Moreover, there is no restriction of monthly data limit or any hidden charges in the contract.
Optimum
Next, you have Optimum internet – a proud provider of reasonable yet fast internet to millions of users across the United States. The provider offers download speeds as high as up to 1000 Mbps, minus the hassle of rigid contracts and irritating monthly data caps. If this service provider is catering in your region, you might want to check it out.
The Bottom Line
The internet is a magical technology that should not have to compromise on. Things such as downtime, poor speed, and poor customer care can ruin the overall internet experience. However, we are confident that the information discussed above will help you choose a better internet service for yourself in the future.